More info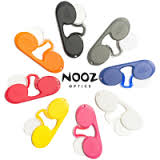 NOOZ stands for reading glasses which help you to see on short distance at any time and any moment. Modern, simple and discreet, they become a convenient part of your daily life, making it a lot more easier in a stylish way. They stand for a mini-revolution, combining high-quality optics to design and comfort, all together in a lightweight package!


Super practical
The case comes in the shape of your Nooz for the greatest convenience. It's a perfect item for traveling.
The glasses are made for fast and frequent handling. The case is rigid, really compact and features a soft touch finish.
Super light
Only 6g! The shape offers outstanding performance without any unpleasant pressure on the nasal bridge. Total freedom for your temples and ears.
Super safe
Designed with the Ophtalmology Center of Dauphiné in Grenoble (France), these are high-quality glasses, made in France. The frame is made of high-performance polycarbonates which makes it crystal clear with great stretch and heat resistance. The glasses boast protection against scratche